Dental Implants in Melissa, TX
What Are Dental Implants and How Do They Work?
Dental Implant technology continues to improve and is now considered the preferred solution for tooth replacement. A dental implant is an artificial tooth root that is fixed to your jawbone. A replacement tooth (dental crown or bridge) is fitted to the dental implant, allowing a natural look and feel.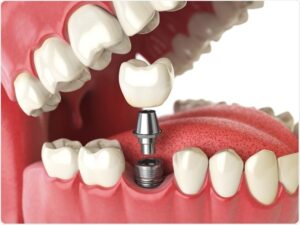 Dental implants require a surgical procedure, and sedation is provided to ensure you do not feel any discomfort or pain during the treatment.
Benefits of Dental Implants
In addition to boosting your confidence, here are the many benefits dental implants can offer you.
Top Benefits of Dental Implants:
They perform exactly like natural teeth

With proper care, Implants can last a lifetime

Dental Implants prevent bone loss

Dental implants can prevent premature aging and facial sagging.

Dental implants keep the gums healthy.

Implants are very easy to take care of.

Dental implants have a success rate of 95-98%

You can return to your regular daily eating and oral hygiene habits
Are Implants Better Than Dentures?
Dental implants offer an alternative to traditional options like bridgework or dentures. These options are, in some cases, ineffective for certain patients and do not have the functionality and esthetics that dental implants can provide. Implants are more durable than dentures and can be used to replace one or multiple missing teeth.
Am I a Good Candidate for Dental Implants
If you are interested in dental implants, our dentist will take all necessary steps to determine your eligibility for this treatment. Here are a few traits our specialist will consider in the qualifying process:
Candidates must have an adequate amount of bone for dental implants

Candidates must be willing to commit to good oral hygiene

Candidates must have healthy gums 
Important: If you have an autoimmune deficiency or if you are a smoker, you will need to visit our dental office in Melissa for a consultation before a decision can be made on whether dental implants are the best choice for you. 
How Painful Are Dental Implants?
The procedure is not painful as we provide anesthesia options for your surgery. In most cases, the dental implant procedure is performed under local anesthesia.
However, our dentist can opt to use conscious sedation or general anesthesia for some patients with certain conditions. Please call our dental office for more information. We will happily answer all of your dental implant-related queries.
The Alternatives to Dental Implants
There are several alternatives to dental implants that our dentist, will be able to advise you on. If you do not qualify for the dental implant procedure, here are a few alternatives:
We Provide Dental Implants in Melissa, TX
If you would like to learn more about dental implants, give us a call or schedule a consultation today! Our friendly, compassionate, and experienced staff will happily assist you.
We look forward to meeting you and starting your smile journey together!

OUR HOURS
Week 1
Monday / 11:00am-7:00pm
Tuesday / 8:00am-4:00pm
Wednesday / 8:00am-4:00pm
Thursday / 7:00am-2:00pm
Friday / Closed
Week 2
Monday // Closed
Tuesday // 11:00am-7:00pm
Wednesday // 8:00am-4:00pm
Thursday // 8:00am-4:00pm
Friday // 7:00am-2:00pm
Our office is open 4 days a week. We alternate Mondays and Fridays off. In order to provide extended hours every week we are open late the first day of our week and early the last day of our work week.