Oral Surgery in Melissa, TX
Oral surgery involves a variety of procedures performed on the teeth, gums, jaw, and adjacent oral and facial structures. These procedures can range from a simple tooth extraction (tooth removal) to complex surgeries such as dental implants and corrective jaw surgery. Our dental office in Melissa, Texas, has the expertise to provide you with the highest level of care. We understand that undergoing any type of oral surgery can be daunting, which is why our experienced oral surgeon uses the latest techniques and equipment to ensure your comfort and safety throughout the entire process.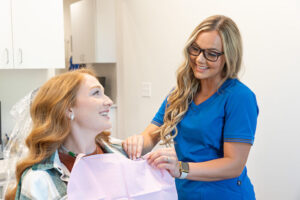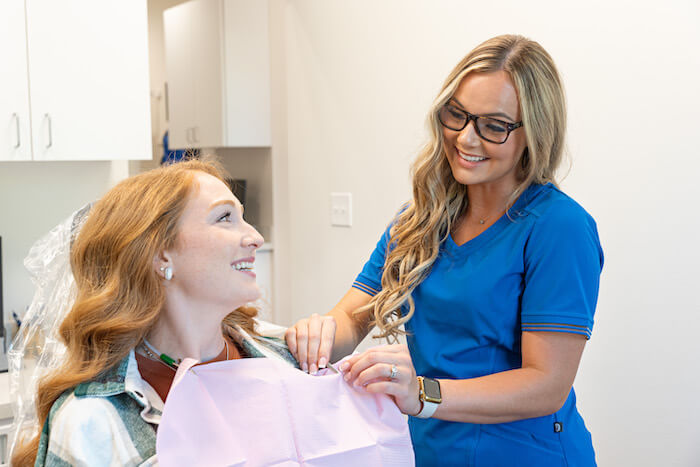 When Would I Need Oral Surgery?
As much as we try to prevent dental problems, sometimes they do occur. Oral surgery may be necessary in a variety of circumstances, a few instances include:
Impacted wisdom teeth
Severe dental decay
Gum disease
Facial trauma
Congenital abnormalities
We recognize that every patient has different requirements, which is why we provide personalized care to decide on the best course of action for your unique case. Our skilled oral surgeon will work closely with you to ensure that you receive the highest quality of care and achieve the best possible outcomes.
What Are The Different Types of Oral Surgery?
Oral surgery covers an extensive variety of procedures designed to address various dental problems. Some of the most common oral surgery procedures include:
Dental Implants
Dental implants are replacement tooth roots surgically implanted into the mandible. They are a popular option for patients who have lost one or more teeth as a result of an accident, disease, or decay.
Tooth Extractions
A tooth extraction or dental extraction is also known as removing or pulling a tooth. Our dentist can extract (remove) teeth if they are badly damaged and treatment cannot be done to save the tooth.
Sleep Apnea Surgery
Sleep apnea surgery is a form of oral surgery designed to treat sleep apnea, a condition that interrupts respiration during sleep.
Corrective Jaw Surgery
Corrective jaw surgery, also known as orthognathic surgery, is intended to correct issues with the mandible (the largest and strongest bone of the human face, forming the lower jaw) and facial structure. It can be used to treat a variety of conditions, such as misaligned mandible and facial asymmetry.
Dental Bone Grafts
Dental bone grafts are procedures used to reconstruct jawbone that has been lost due to disease, injury, or other causes. The bone grafts can help provide a stable foundation for dental implants or other restorative dental treatments.
Periodontal Surgery
Periodontal surgery is a type of oral surgery that is designed to treat gum disease. The goal of periodontal surgery is to stop the progression of gum disease and to prevent further damage to the teeth and gums.
How Can I Prepare For Oral Surgery?
Preparing for oral surgery can aid a successful procedure and a quick recovery. Here are some preparation recommendations for your upcoming oral surgery:
Communicate with your oral surgeon or dentist:
Be sure to tell your oral surgeon or dentist about any medications you are taking, any medical conditions you have, and any concerns you may have about the procedure.
Follow pre-operative instructions:
Your oral surgeon will provide you with specific instructions to follow in the days leading up to your surgery, such as fasting for a certain period of time or avoiding certain foods or drinks.
Arrange for transportation:
Depending on the type of surgery you are having, you may need to arrange for transportation to and from the surgical center.
Plan for aftercare:
Make sure you have someone who can stay with you for the first few hours after the surgery and help you with any necessary aftercare.
Rest and relax:
Make sure you get plenty of rest in the days leading up to your surgery and try to stay as relaxed as possible to help minimize any anxiety or stress.
When Should I See an Oral Surgeon?
If you have troubles with your teeth, gums, or mandible (jawbone), it may be time to schedule an appointment with our oral surgeon. Common indications that you may need the services of an oral surgeon include:
Tooth pain or sensitivity
Difficulty chewing or speaking
Jaw pain or clicking
Loose or missing teeth
Bleeding or swollen gums
Oral infections or abscesses
Sleep apnea or other breathing problems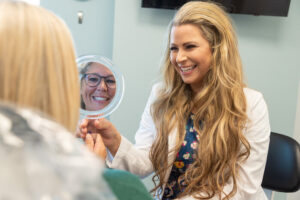 We Provide Oral Surgery in Melissa, Texas!
At Magnolia Ridge Dentistry, we are committed to meeting all of our patients' oral health needs. Whether you require a simple tooth extraction or a more complex procedure, our experienced oral surgeon is available to provide you with individualized care and treatment in order to achieve and maintain optimal oral health.
If you have any concerns or questions about oral surgery procedures, or if you would like to schedule a consultation with our skilled oral surgeon in Melissa, please don't hesitate to give us a call. We will be more than happy to assist you and provide you with the personalized care and attention you deserve.
We look forward to meeting you and starting your smile journey together!

OUR HOURS
Week 1
Monday / 11:00am-7:00pm
Tuesday / 8:00am-4:00pm
Wednesday / 8:00am-4:00pm
Thursday / 7:00am-2:00pm
Friday / Closed
Week 2
Monday // Closed
Tuesday // 11:00am-7:00pm
Wednesday // 8:00am-4:00pm
Thursday // 8:00am-4:00pm
Friday // 7:00am-2:00pm
Our office is open 4 days a week. We alternate Mondays and Fridays off. In order to provide extended hours every week we are open late the first day of our week and early the last day of our work week.