Preventative Therapy in Melissa, TX
Why Dental Check-Ups Are Important
Although it may not be something, people look forward to, a visit to our dentist in Melissa every six months is one of the best ways to preserve your oral hygiene!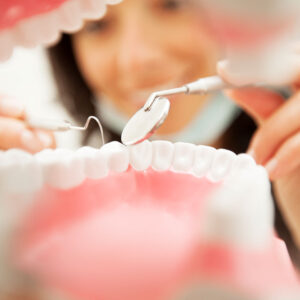 At Magnolia Ridge Dental, we help our patients understand all possible consequences before they consider skipping a checkup due to cost, time constraints, or anxiety. The truth is, long-term, the cost of not seeing a dentist will be higher for your pocket and your peace of mind, so why not make life easier?
Top reasons you should see a dentist every six Months:
Avoid Plaque, Tartar & Cavities
Even with daily flossing and brushing, small areas of the mouth can still be missed. Plaque becomes harder to remove, and can solidify into tartar. This is very difficult to remove without professional assistance.
Regular cleanings of the teeth prevent tartar from eroding them or creating holes. This is how cavities form. Cavities don't usually show any symptoms once they start to form. Once the tooth has decayed, it will only cause a minor ache. After the damage is done, our dentist will need to fill the cavities or fix any other problems with your teeth. Regular cleanings can prevent this from happening.
Cleanings are also cheaper than fillings, so don't miss them even if you have limited funds!
Tooth decay can be caused by tartar and plaque buildup. It can also cause damage to the gum tissues. When tartar buildup causes infection at the gum's connection to the tooth, the gum will pull away from it. Gingivitis is a condition that causes gum disease. As the infection progresses, the tissue that connects the gums to the teeth begins to fall apart.
Gum disease symptoms include:
Bad breath that will not go away
Gums that are red or swollen.
Gums that are tender or bleeding.
Painful chewing
Loose teeth.
Sensitive teeth.
Receding gums and longer-looking teeth.
If you think you might have gum disease, our dentist offers periodontal therapy, which is the treatment of gum disease. If you are experiencing severe pain or discomfort in the gums, please contact our dental office as soon as possible for a consultation.
Oral Cancer can be a very serious condition that manifests in many ways. It is possible to treat oral cancer in its early stages. Oral cancer can rapidly progress if not diagnosed early enough, so it is important to visit our dentist for check-ups. She is highly trained to recognize these signs and symptoms and can refer you to a specialist if necessary.
What Happens During a Dental Cleaning?
At Magnolia Ridge Dentistry, we recommend our patients receive an exam and cleaning every six months. During your exam and cleaning, the doctor will evaluate your oral health, detect any diseases and address any dental concerns. During your appointment, our doctors will perform your cleaning and will remove all plaque and tartar that may have built up. We will also review your brushing and flossing techniques and will show you techniques that will improve your oral health.

OUR HOURS
Week 1
Monday / 11:00am-7:00pm
Tuesday / 8:00am-4:00pm
Wednesday / 8:00am-4:00pm
Thursday / 7:00am-2:00pm
Friday / Closed
Week 2
Monday // Closed
Tuesday // 11:00am-7:00pm
Wednesday // 8:00am-4:00pm
Thursday // 8:00am-4:00pm
Friday // 7:00am-2:00pm
Our office is open 4 days a week. We alternate Mondays and Fridays off. In order to provide extended hours every week we are open late the first day of our week and early the last day of our work week.