Invisalign in Melissa, TX
Magnolia Ridge Dentistry is Melissa's premier dental practice. Our dentist, Dr. Schuster, offers various cosmetic services to give you the smile of your dreams. One of our most popular services is Invisalign, and we're now offering a dental special of $1000 off Invisalign for new patients!
Invisalign is the most advanced clear aligner system in the world, revolutionizing how people straighten their teeth. Instead of traditional braces and wires, Invisalign uses a series of removable, clear aligners that are virtually invisible and much more comfortable to wear.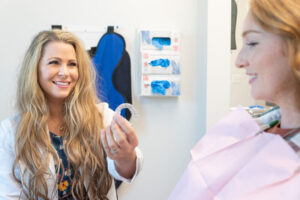 Each aligner moves your teeth a small amount toward your final result, typically worn for two weeks before swapping it for a new one to continue the process. It is a popular choice among adults and teens who want to improve their smile without the discomfort and visible appearance of traditional braces. Invisalign has been used to treat a wide range of dental issues, such as overbites, underbites, crossbites, and gaps in teeth.
What Is the Process Involved With Invisalign Treatment?
Invisalign treatment begins with a visit to our cosmetic dentist, Dr. Schuster, who has received specialized training in Invisalign treatment. Dr. Schuster will evaluate your teeth and jaw at this consultation to see if Invisalign is a good fit for you. If it is, you can expect the following process:

• A mold of your teeth is taken
• A series of custom-made, clear aligners are created
• A customized treatment plan is developed
• Our cosmetic dentist will prep your teeth
• Your aligners will be fitted

The length of treatment varies depending on the case's complexity, but most people will complete treatment within 12 to 18 months. It will be required to visit our cosmetic dentist regularly to monitor the progress and make any necessary adjustments to the treatment plan.
There are many benefits that come with having your teeth straightened using Invisalign®.
Here are the most notable:
Clear and virtually invisible
Invisalign aligners are clear and virtually invisible, making them an excellent option for adults and teens who want to straighten their teeth without the appearance of traditional metal braces.
More comfortable to wear
I

nvisalign aligners are made of a smooth, comfortable plastic material, making them more comfortable to wear than traditional metal braces.
A wide range of tooth alignment issues are treatable
Invisalign can treat many dental issues, such as overbites, underbites, crossbites, and gaps in teeth, making it a versatile treatment option.
Removable for better oral hygiene
Invisalign aligners are removable, which makes it easier to maintain proper oral hygiene during the teeth straightening process.
Fewer office visits required
Unlike traditional braces, Invisalign requires fewer office visits, saving you time and money.
A straighter, more beautiful smile
Invisalign can lead to a straighter, more beautiful smile by properly aligning your teeth and jaws.
Boosts self-confidence and self-esteem
A straighter, more attractive smile can improve your self-confidence and self-esteem.
Improves overall oral health
Invisalign can improve oral health by adequately aligning teeth and jaws, which can help prevent dental issues in the future.
Cost-effective alternative
Invisalign can be a cost-effective alternative to traditional braces and provide better results.
Is the Invisalign Treatment Painful?
Invisalign treatment is designed to straighten your teeth gradually and comfortably. Many patients report minimal discomfort during their Invisalign treatment, and any discomfort they experience is typically mild and short-lived.
The clear aligners are made of a soft, flexible material that gently shifts your teeth into place. Unlike metal braces, Invisalign aligners do not cause any irritation or soreness to the soft tissues of your mouth. You may feel pressure or discomfort when you first start wearing a new set of aligners, but this usually subsides within a few days.
It's important to follow our cosmetic dentist's instructions and wear your aligners as directed to ensure a successful and pain-free treatment experience. If you experience discomfort during your Invisalign treatment, our cosmetic dentist can provide tips and advice on managing it.
Overall, Invisalign is a safe and effective cosmetic treatment designed to be comfortable and minimally invasive. If you're considering straightening your teeth with the least amount of discomfort, Invisalign is a great option to consider.
Who Is a Good Candidate for Invisalign?
Invisalign is a popular cosmetic treatment that has helped many achieve straighter and healthier smiles. But who is a good candidate for this treatment? To determine if Invisalign is a suitable option, a consultation with our trained cosmetic dentist is necessary. Here are some factors to consider when deciding if you are a good candidate for Invisalign.
Oral Health


Invisalign is most effective for patients with healthy gums and teeth. If you have cavities, gum disease, or other oral health issues, these need to be addressed before starting treatment.

Dental Alignment


Invisalign can treat a wide range of dental alignment issues, including overbites, underbites, crossbites, and gaps in teeth. However, more complex cases may require alternative treatment options.

Age


Invisalign is suitable for both adults and teens. While younger patients may still have some changes in their dental structure, Invisalign is still an effective option.

Lifestyle


Invisalign aligners are removable, making it easier to eat and clean your teeth compared to traditional braces. However, if you play contact sports or musical instruments, Invisalign may not be the best option for you.

Compliance


To achieve the desired results, Invisalign requires consistent wear. Good candidates for Invisalign are those who are committed to wearing their aligners for the recommended 20-22 hours per day.
Start Your Invisalign Journey!
If you're considering Invisalign treatment, choosing Magnolia Ridge Dentistry in Melissa, TX, should be your first choice with our dental special of $1000 off Invisalign for new patients! Our highly skilled cosmetic dentist and her team have years of experience with Invisalign and are dedicated to helping you achieve the smile you've always wanted.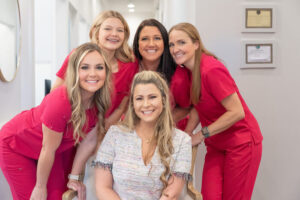 Our state-of-the-art facilities and commitment to providing the best dental services make us the perfect choice for anyone looking to straighten their teeth. Don't wait any longer to take the first step towards a beautiful, confident smile. Book a consultation with us today and experience the difference in Invisalign at Magnolia Ridge Dentistry!

OUR HOURS
Week 1
Monday / 11:00am-7:00pm
Tuesday / 8:00am-4:00pm
Wednesday / 8:00am-4:00pm
Thursday / 7:00am-2:00pm
Friday / Closed
Week 2
Monday // Closed
Tuesday // 11:00am-7:00pm
Wednesday // 8:00am-4:00pm
Thursday // 8:00am-4:00pm
Friday // 7:00am-2:00pm
Our office is open 4 days a week. We alternate Mondays and Fridays off. In order to provide extended hours every week we are open late the first day of our week and early the last day of our work week.